| | |
| --- | --- |
| Cap | 130 |
| Mastery | 390 |
| Race | CH/EU |
| EXP/SP | 500x |
| Gold | 45x |
| Item | 45x |
| Alchemy | 1x |
| IP-Limit | 8 |
How we make a Free 2 Player Game possible?
We have thought of different ways.
Our ways are:
Free Silk System.
Silk/Hour.
You can earn silk item through various activities like Raids, Time Travel Dungeons, Jobbing and Arena of Death.
No Pay2Win means u can't buy any equipment.
It is important to us that everything that is in the game can also be reached by playing.
For an easy start we have inserted an Autoequip system up to 11D

How to use?
Simply open the action menu with the 'a' key and there you will find the Auto Equip Control.
Click on it.
You will be teleported briefly and that is it, do not worry, you can also use it outside of the city, you will stay where you are.



There are different ways to get your EndGame Gear.
For example, it can drop.
Otherwise you can get the following Parts "from" :
| | |
| --- | --- |
| Weapons | Job/Drop |
| Set | Job Temple/Drop |
| Acc's | Arena of Death/Raid/Drop |
Different Daily Quests:

Every Day you will get other Daily Quests, you have 24 hours to complete them.

Rewards
Silk Items
Job Coins
Arena Coins
Gold Coins


Show that you are the best and defeat our monsters in the Arena of Death.
Prepare you and take down the waves of Monsters in Arena of Death.
The winners will be rewarded great.
Among other things, you can get accessories.
But also rewards like Immortal.

How it works?
Prepare yourself and 1-7 your friends and form a party.
Go to the Arena of Death.
There you have to defet different monster waves.
Sometimes boxes spawn in the middle of the arena.
Kill them and be surprised what they contain.
It is worth it .. :)
Now go on ... Show the others how far you and your friends can get.
Happy hunting
Are you ready for the real big fights?
Jump into epic raids with your friends and guild members.
You can expect great battles, special rewards and much more.
Let yourself be captivated by our raid system and sink into hours of long battles.


Level|130
Players|1-16
Duration|4-5 hours
Difficulty|Heavy
Uniques|9
Rewards|Arena Coins/Silk Items
Time Limit|8 hours

How to get more than 8 People in a Raid?
Create 2 Partys, one leader have to teleport into the Raid zone, there you have to teleport the other leader to you with the chat command: '!porttome Playername'. He have to accept the Raid invite.
Other Party Members can join after that with the normal teleport.




We bring it back.
All monsters have been revised and raised up to level 130.
Let the fight between the jobs revive and fight for the gold coins in demand or simply farm skill points. Gold coins are used to buy 13D set parts. They are dropped by the uniques in the Job Temple.
Explore the Job Cave, maybe there is more to find there than gold coins.
Spawn Time:

Selkis/Neith|11:30 AM/4:30 PM
Anubis/Isis|1:30 PM/7:30 PM
Haroeris/Seth|3:30 PM/8:30 PM


Are you ready to relive the best fights in Silkroad?
If so, you are exactly right here. Our Time Travel Dungeon is what you are looking for.
A different Unique Dungeon will be active every week.
Great rewards, epic battles and a lot of nostalgia await you.
Be curious, there is a lot to discover.
Secrets awaiting you.



Rewards:
Special Buffs
Skin changer
Glow changer
Silk Items
Secrets




This never gave it before! We implemented the very first job system,You are never safe! Because every other players await you and they can switch to job mode at any time. Everywhere. Everytime.
PREPARE YOURSELF!

How it works?
Simply select your desired job via Action Menu (A) under Job Control.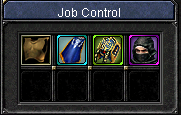 You will be teleported to the same position and can work directly.
Just like in the old days. :)
The job change also works via the action menu.
Selects Unwear Job to leave the current job.
Note: You have to wait 20 minutes after moving out to put on another job suit.

You get job coins for your job activities.
You can exchange these for certain items such as 13D weapons or selected silk items.
The amount of job coins you get depends on your trade size.
You will only be rewarded for two jobs a day.
Jobbing for Honor Buffs:

For every kill and trade you get points with which you can enter the honor rank.
The honor ranking is reset every month.